I participated in a May Market Bag Swap. I used Sirdar Denim Cotton DK.It was easy to knit but I did change the handles. I did not follow the pattern for the handles.
Colour: Denim Blue.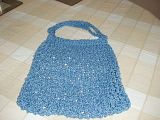 This is what I received from Pastelmaiden in the May Market Bag Swap on the Knewbit Kit Forum on Ravelry.
Thank you Pastelmaiden.