I have just completed the back. This another project I had on the go whilst knitting the baby blanket.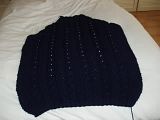 I love days like today when I can knit and not worry about dinner or housework because it has been done already.
I am using Sirdar Bonus Aran - 400g balls to knit the above item.