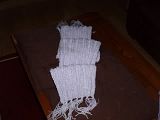 For the scarves I could not get the colour I wanted in chunky wool so I experimented a little. I used two strands of DK wool to create the scarves.
One is done using brown and white and the other was lilac and white. The result was lovely. It feels nice and soft and would lovely to wear on those cold winter days.
Length of each scarf is 53ins.